At Abeel & Associates, we are committed to making the claim process as simple as possible for our clients and maintaining our 5-star level of service.
If you live in Arizona, California, Florida, New Jersey, Ohio, Pennsylvania, Texas or West Virginia, and whether your case involves:
Lemon law claims,
Breach of your vehicle's warranty, or
Dealer fraud,
There are 7 short steps to getting the compensation you deserve: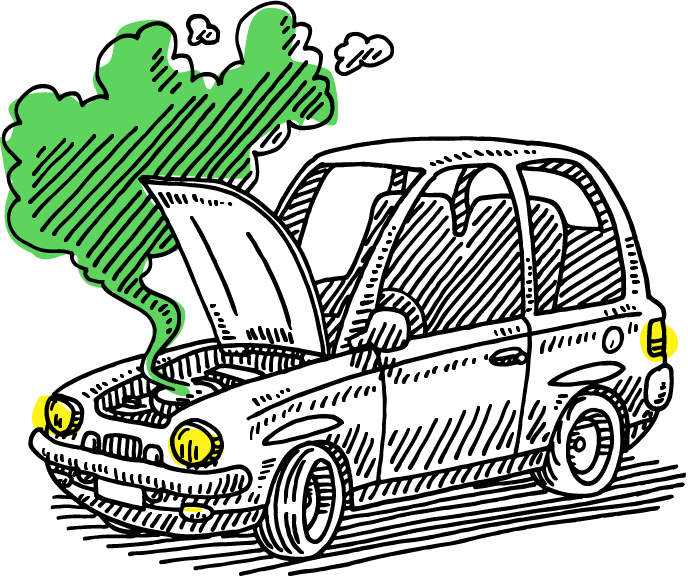 To determine whether you have a potential claim, we'll need your contact information; the make, model and year of your vehicle; the general nature of your vehicle's defects, and its servicing/repair history. It's easy to share this information via our online form.
To bring claims on your behalf, we'll need various documents from you, such your sales or leasing contract and copies of your repair invoices. Photos of defective parts or videos that show your vehicle malfunctioning in real time are also useful evidence for your claim. IF YOU HAVE THESE DOCUMENTS AND PHOTOS/VIDEOS READILY AVAILABLE WHEN YOU FILL OUT THE CASE REVIEW FORM, PLEASE UPLOAD THEM TO OUR WEBSITE AT THE SAME TIME YOU SUBMIT THE FORM.
You cannot legally recover compensation for your defective vehicle unless you continue to be the vehicle's owner or lessee. DO NOT SELL OR TRADE IN YOUR VEHICLE BEFORE YOUR CASE IS FULLY RESOLVED OR SETTLED.
If we resolve your case, you can get a cash settlement or your vehicle repurchased, including your down payment, trade-in value, monthly payments and taxes. So long as your car is safe to drive, continue to use your vehicle while we work on your case.
If your vehicle continues to have the same problems for which you made your claim—or it starts to exhibit additional defects—YOU MUST TAKE THE VEHICLE TO THE DEALER TO REPAIR THE CURRENT OR FUTURE ISSUES. Retain all invoices and other documents that the dealer gives you at each service appointment.
If your dealer does not provide you with documentation for one or more service visits, keep notes of the vehicle's problems you discussed with the dealer, the dates the vehicle was serviced, and anything the dealer told you about your vehicle and its defects/repairs.
Your claim has a better chance of a good outcome if we have evidence that your vehicle is continuing to malfunction. Additional photos and videos of your vehicle's defective components and operational issues will make your case for compensation stronger.
The law requires you to be the owner or lessee of your vehicle at the time your case is resolved. Consequently, you must continue to make all loan or lease payments for your vehicle until we settle your case—even if the vehicle's defects are preventing you from driving it.
If we agree to work on your case, you will not be required to pay us a retainer or any other fees. Consumer protection laws, like state Lemon Laws and the federal Magnuson-Moss Warranty Act, require the vehicle manufacturer to pay your attorneys' fees and other claim-related expenses (such as the fees we pay to experts to inspect your vehicle and write a report).
If we can't get your case settled within 30-90 days, we are prepared to sue in court to get you the best result. Our office will pay to have an outside expert inspect your vehicle and write a report about its defects and how they are impacting the vehicle's value and your ability to drive it. We'll use this report to negotiate a settlement or as evidence in court.
YOU WILL NEVER BE RESPONSIBLE FOR ATTORNEYS' FEES IF WE DON'T OBTAIN A SETTLEMENT OR OTHER COMPENSATION FOR YOU.
Exceeded my expectations with the outcome.
Tim and his team are the most professional and courteous group that I had the pleasure working with. They took the Time and explained every step in detail of the Lemon Law process. They have exceeded my expectations with the outcome. Thanks again Tim.
Mr. Abeel and his staff were amazing from start to finish.
They handled everything and were responsive to any questions we had during the process. If you have a possible Lemon Law case please contact their office first, you will be thankful that you did.
I could finally move on thanks to this firm.
Amazing service from Mr. Abeel and his staff. After 18 months of getting the runaround from a very high luxury brand that is known for not being cooperative with issues, Mr. Abeel was able to settle my case. I could finally move on thanks to this firm. Highly recommended!
Able to make a bad situation into satisfying and rewarding outcome.
Amazing! Tim Abeel was able to make a bad situation into satisfying and rewarding outcome. Tim literally handled my case via emails and phone calls. His staff was extremely knowledgeable and helpful through the process. Although my Ford Mustang was a 2012 Tim was able to get me substantial amount of money for my recovery. If you are serious about an attorney, you need to make Tim Abeel first on your list. Great Guy!
Made the process easy and uncomplicated.
It was a real pleasure working with Tim and his team. They are amazing, very responsive to any question one might have along the way. His team very polite and nice, made the process easy and uncomplicated.
Get a New Car, Full Refund or Cash Settlement
If your car was manufactured between 2018 and 2023 we may be able to help. Contact us for more information.
MORE ON LEMON LAW IN YOUR STATE
Our services are 100% free to you in every state.